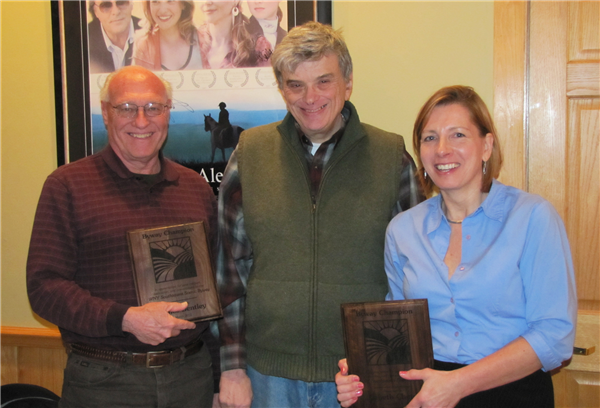 The WNY Southtowns Scenic Byway presents its Byway Champion Award to those whose efforts are crucial to the Byway's ability to meet its mission now and in the future. It was presented to Legislator John Mills in April of 2010, recognizing his major contributions and guidance to the Byway.
In early 2012, James Bentley and Elizabeth (Betty) Cheteny (pictured on right with Byway President Bob Lennartz) were recognized for their dedication, support and participation on the Byway's volunteer board of directors.
In winter of 2013, Jack Bertsch, the owner of Polymer Conversions, Inc. was presented with the latest installment of the Byway Champion award. Jack had shown faith in our organization when it was just a hope and a wish of a few community-minded people. He was one of the first from the private sector to step up and help and that commitment endures to present times.
February of 2014 saw two new Byway Champions added to our list. Both played important roles in our beautiful, successful interpretive sign program. Johnson Hehr Associates received one for their hard work in the creating the signs. The second was presented to the Village of East Aurora for serving as the grant administrator for the Byway sign project.
Congratulations to all of the recipients of the Byway Champion award.